Greetings everyone!!
Welcome to my Strain Review. I'm going to write a word or two about strains I used to grow. First chapter About Strain will cover facts provided by breeder. Second chapter About Growing will cover some my experiences and notes and memories depending on how much I've kept track... With more recently grown plants, I'll provide more photos, for this, ancient, i have only photo or two. So, let's go...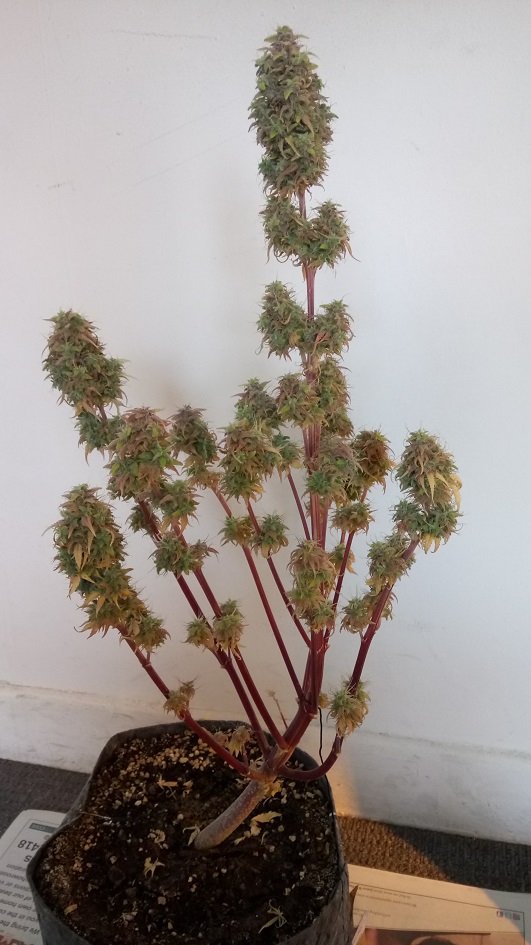 Sweet Tooth Auto
by Barney's Farm
About Strain
Genetics: Sweet Tooth (Afghani x Nepalese x Hawaiian) x Auto
Type: 40% Sativa - 60% Indica
Yield: 600 gr/m2
Height: 70 - 90 cm
Life Time: 75 - 80 days from germination
THC: 13 - 16%
CBD: 1.3 - 1.6%
Autoflowering strain of their legendary three time Cannabis Cup winner (2000, 2001, 2002) Sweet Tooth, crossed with most up to date autoflowering strain. Switches from vegetation to flowering after 35 days.
About Growing
I bought five seeds couple of years ago and seeded them through few different grows. This photo is from my second time growing it. She was the weakest and smallest due to overfeeding (I was still learning) but still yielded ~20 gr. The first yielded ~27 gr and~33 gr. Two of them didn't germinate. Healthy plants were about 80 - 90 cm tall. They took between 83 and 92 days from germination to harvest. Anyways, this strain remains in some bland memory. I can't say bad word, but I can't say many good either. It's calming and good for relaxed evenings with movie.
Thank you for reading. Feel free to upsmoke, comment, follow and resmoke. You can also checkout what am I currently growing and freshly released strains that I find interesting to share with you.
Stay Smoked