Greetings everyone!
After last weeks wordless post, this time I've prepared something little different. So recently I bumped into Lift Ticket Laboratory. The company that makes terpene infused rolling papers and blunts. Simple, yet great idea. Amongst all flavours, I chose #Gelato41 and Wedding Cake. Gelato 41 for now and Wedding Cake for... Well for my Wedding Cake when it's cured and ready.
It wasn't an easy task to choose between my #strains what to smoke with this blunt. I've read about Gelato's earthy, sweet and citrusy flavours so decide to accompany this blunt with Tangerine Dream. It was tight with Northern Light but I went for sweet and citrusy instead of sweet and earthy.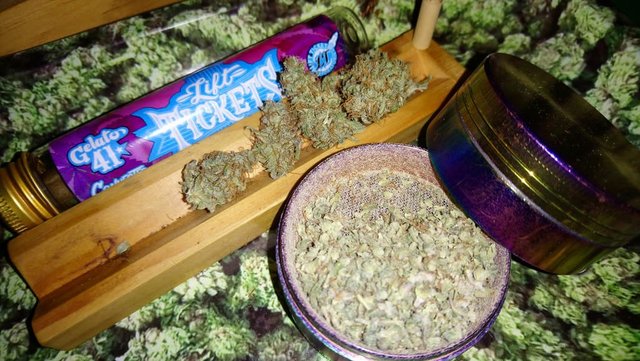 A bit of #nugporn
Blunt as itself was not something special. It was pretty much dry and it required some saliva to get ready. Once when it's ready it's actually very easy to roll.
And now, #smoking... Terpene infused blunt with Tangerine Dream is sweet. Very sweet. Terpenes in blunt are so intense, you literally can use any shitty weed, wrap it in this blunt and it will smell magnificent.
Bottom line, interesting to try but with that price I don't think it will be you everyday blunt.

**
And yesterday I hit the milestone. One hundred and five of you decided to read my posts on an active basis and I'm thanking you for that. In recent three fun months, you placed my posts on trending page more than few times and altogether rewarded me with 4000 smoke which allows me to reward communitty more. Now, I'll wrap it here before all got too emotional.
Anyways, looking forward to future times.
Thank you for stopping by!
Stay Smoked