Double Gorilla OG a Revolution Cannabis original strain
"One of the phenotypes of an in-house F1 cross of Ghost OG and Gorilla Glue #4 by Revolution. This strain presents a balanced physical and cerebral experience w/ moderate sedative qualities. The complex aroma is marked by citrus notes, pine and a musky floral quality. Notes of spice and soap-y finish add to layers of flavor." Source
The Numbers
Another hitter! Over 30% ThcA. This ones got a little bit of CBN, and I have felt that in it.
The Look
It's truly a beauty. The colors and vast trichome coverage give it a really high quality look. The bud structure is really nice, however the nug formation is way too fluffy and stringy for my liking. Buds like this tend to dry up and create a lot of shake, that densely packed nugs do not.
The smell
It smells a lot like it's parents. The Gorilla Glue probably shines through a little bit stronger, but you can definitely smell that OG in there. It is very sweet with pine and a hint of funk.
The taste
The taste is my favorite quality of Double Gorilla OG. It like the smell has a combined flavor between the GG4 and the Ghost OG, providing a lot of sweet piney goodness. It's probably a bit heavier on the GG4 side as it's a very sweet strain, with hints of the OG flavor.
The effect
The effects are surprising with this one. It comes out sativa dominant, which is unexpected. Ghost OG tends to be Indica dominant, and GG4 has cuts that are both, so this was probably taken from a sativa dominant GG4. Effects are very cerebral, but not without a comfortable body high. The CBN in this strain can make you pass out if you do too much, and I've definitely experienced that with this one.
---
---
---
I can't figure out how to embed images so you have to leave smoke to go see my awesome gif I made here, here's a sped up preview. Gifs are so frusterating, thanks to @jackdub for the help/advice on them.
---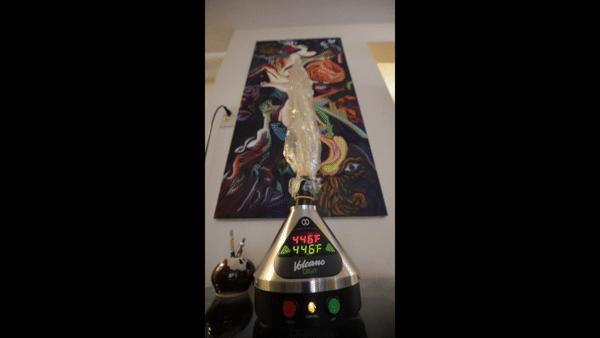 #cannabis #canna-curate #weedporn #nugporn #revolutioncannabis #doublegorillaog #ghostog #gorillaglue #gg4 #illinoismedicalcannabis #medicalcannabis