Greetings everyone!
Some 8 months ago I bought two terpene enhanced blunts. One was Gelato 41 shown here. I was holding Wedding Cake for my Wedding Cake when it's ready to pair these two. The funny thing is, I completely forgot about it and almost finished last #weddingcake jar. Came to my mind last week. And now it's here, last 4 grams (out of 80-ish) and it's own terpene enhanced blunt.
Overall experience: meh... If you got some shitty #strains, then yeah, it's worth to cover up shittiness. But, if you got something good then regular blunt will do. I could go about flavours, but there's really nothing more to #review.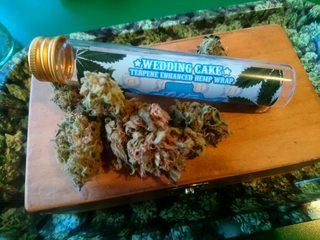 Bit of #nugporn
Last week something else caught my attention too. I remember @zavz9t as a guy who posted daily some reports on cyrilic with some generic photo. I stumbled on his profile and there's nothing. His profile counts 70 posts, but it Looks like zavz9t hasn't started blogging yet! Comment section counts 10, but some comments can't even reach original content.
Now, if blockchain is irreversible, immutable and all that jazz, how is this possible?? Am I missing something??
Next, @cathodion was a member who had great posts but, turned out totally plagiarized. He sold account to who we know today as @joelagbo. There are three removed posts (1, 2, 3). How that happened? Did @joelagbo remove these posts before 7 day mark?
And last but not least... Who's @seed??
Thank you for stopping by!

Stay Smoked