WHY  WE CHOOSE SMOKE NETWORK
As  Smoke.Network is a blockchain built for the social networking needs of the cannabis community and the Dapp contains the core social media networking features we thought it would be great to introduce CBD TOKENS on this platform as its the first decentralized  cannabis social network and CBD TOKEN falls in the Cannabis community.So Smoke.Network Smokers allow us to introduce CBD TOKEN  as We are a crypto-currency start-up token empowered by the decentralized TRON blockchain and we aim to decentralize web payment systems, allowing for psuedo-anonymous transactions, that protect cannabis patients right to medicinal CBD products. 
NAME: CBDTOKEN
TOKEN SYMBOL: CBD  
TOTAL SUPPLY: 100,000,000
WEBSITE: https://cbdtoken.network/#


WHATS CBD TOKEN??

CBD TOKEN is a Token on the TRON Blockchain.
A peer to peer payment network with instant confirmations capable of bridging the gap between supply and sustainability in the medical cannabis community. Our solution exceeds the current network payment system which currently imposes restrictions on CBD sales. 
WHY WE CREATED CBD.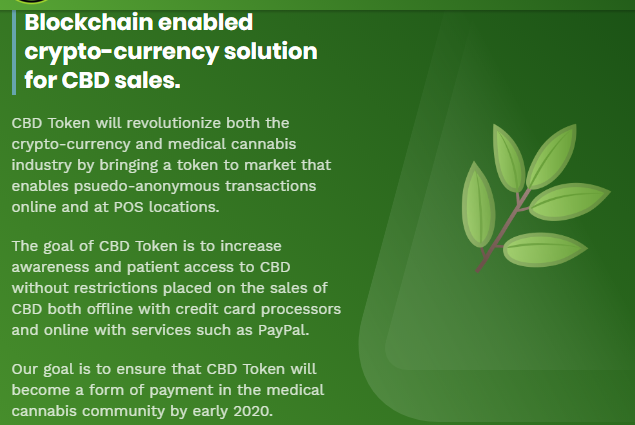 BENEFITS OF CBD TOKEN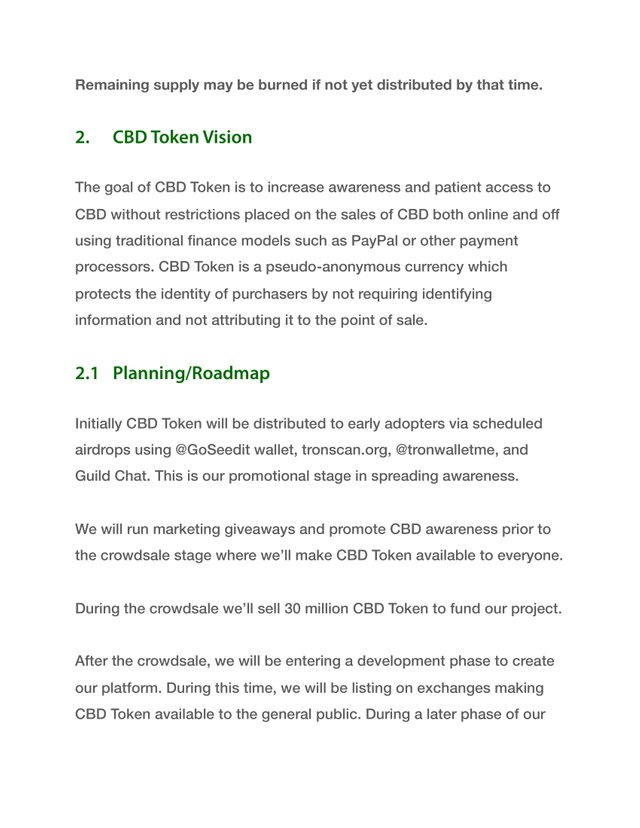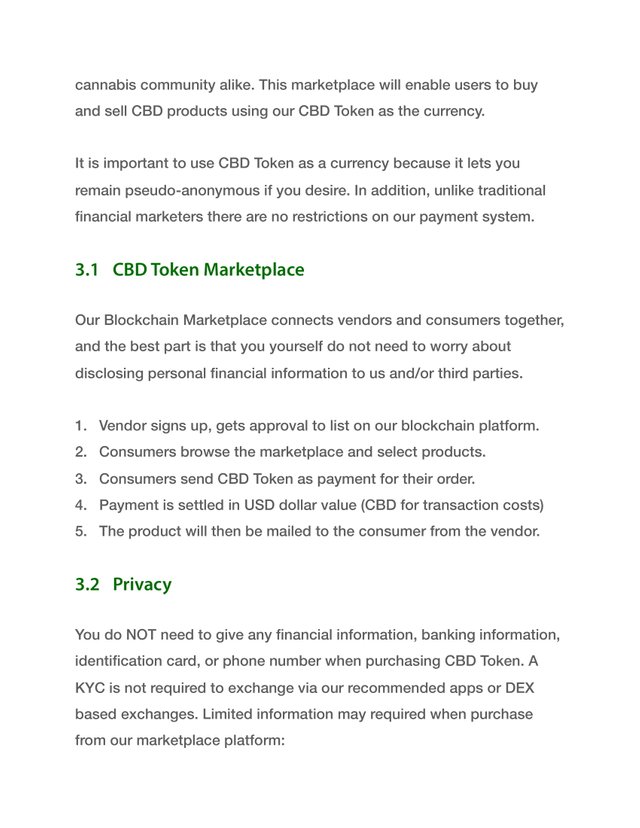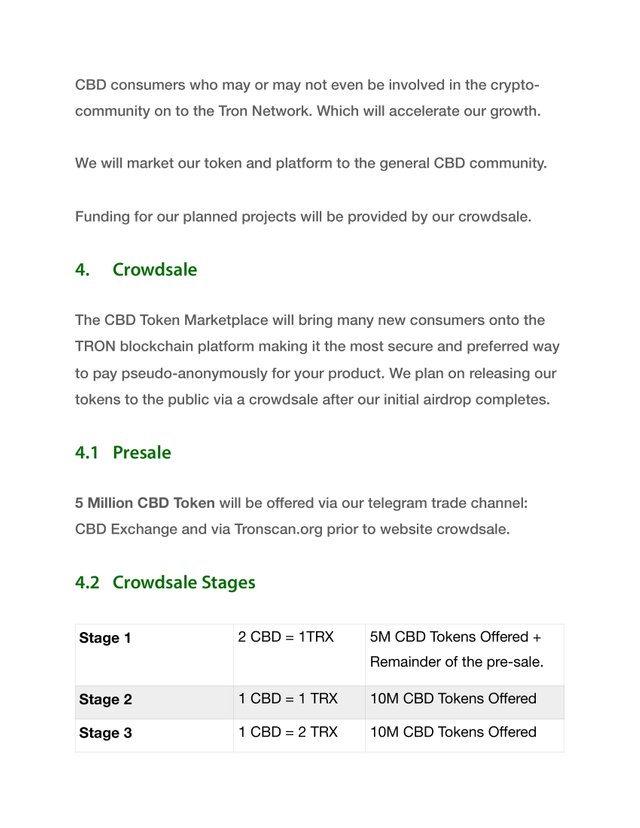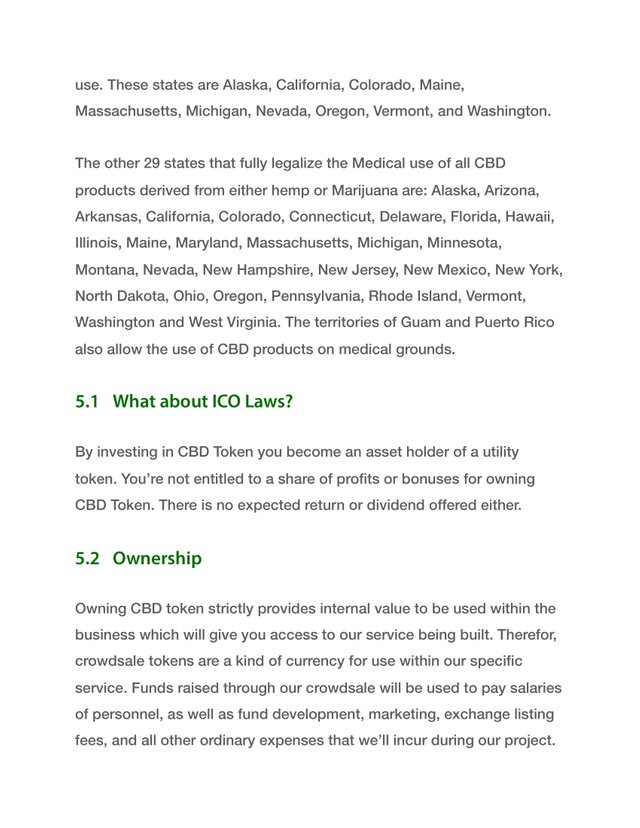 CROWDSALE DISTRIBUTION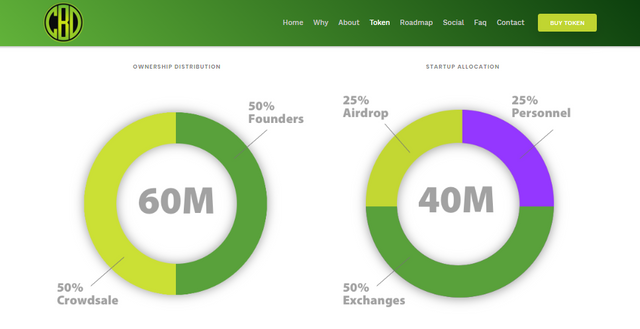 We're building a CBD Token enabled marketplace releasing in Q1 of 2020 that will completely revolutionize the way CBD is sold online. Restrictions imposed by credit card merchants and PayPal previously prevented such a marketplace.
WHERE TO BUY CBD TOKEN??
CBD Token will be offered for sale through our telegram channel in pre-sale, and via crowdsale on our website starting February 12th at 11 AM EST. We will notify email subscribers, twitter followers, telegram and guildchat groups when the airdrop ends and the crowdsale officially begins.
 30M Total CBD Tokens available for sale.
 5M CBD Tokens will be sold at pre-sale.
 25M CBD Tokens will be sold via crowdsale.
 Unsold crowdsale tokens will be burned.
WHERE TO USE CBD TOKEN
Because we are part of the TRON Blockchain we have access to innovation that far supersedes current payment solutions. Our integration with Seedit means we can send and receive address based payments as well as accept merchant payments online and in person via the TRON Poppy card program.

Smokers community lets all join hands as we create awareness in the cannabis world.
FOR MORE INFORMATION ABOUT US
CHECK OUR WEBSITE: https://cbdtoken.network/#
TELEGRAM: https://t.me/cbdtoken
TWITTER: https://twitter.com/cbdtoken
#introduceyourself #cbd #cannabis #cbdtoken