Greetings everyone!
I'll keep this intro short. So, my story for #trippycontest. My best experience with acid speaking of tripping and most interesting experience probably as well.
It was at Ozora in 2017, a 7-day psytrance festival in Hungary, somewhere nowhere 100-150 km SSW from Budapest. That festival was a mind-changer in general but on a fifth day, I had an epiphany xD. I don't know was that because I was completely alone (amongst 35-40k people) or because of a whole festival thing or because of all the other substances I took in days prior to this.
Main stage
Anyways, I woke up around 10 am when the Sun started hitting my tent. The plan was to take a shower, grab some breakfast and head to the main stage where Ace Ventura was playing his 1.5-hour set starting at half 11. I stuck my acid just before and was ready to go.
Dancing out on the Sun at 40-45*C tears you a lot. Combining those two with drugs is asking for trouble if precautions are not taken. It's very important to hydrate properly. In those conditions, a half litre bottle of water lasts for 20-30 min. I had three on me rotating them constantly.
It took about half an hour to feel the first effects. Fasten your seatbelts... Soon after it was unleashed, Ace was nailing it, the fire brigade was pouring water all over the people... I'm in heaven.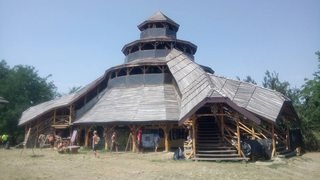 View at the hill from top of the building on the left
After the set was over, I felt drained. It was time to find some shade, sit down, roll a spliff and chill. So I climbed long way upstairs on the small hill. There are workshops and trees, there should be some shade where I can find some a little-isolated place. Yeah, right. I was spinning around but nowhere to sit. People everywhere. And Sun. A lot of Sun. Decided to go to the Pyramid. There's a workshop as well, but I can sit on the outside, facing back to people. So, I did it. I was desperate to get some rest. My knees were weak, my whole body was shaking, palms uncontrollably sweating...
That magnificent feeling when my ass touched those planks and my legs finally bent in knees. I was still on the Sun, but now I can roll. Drank some water and started rolling.
And then another wave hits me. Couldn't see joint in front of my eyes. Somehow, using last bits of concentration, I rolled it but left everything on the side. I couldn't move. I drank some more water and raised my head. And started laughing. Laughing at myself, at everything around me. I was incredibly happy with just being there. Whatever I saw has just created a huge amount of happiness in me that made me laugh. In front of me was some kind of garden and flowers on the wind were shaking off silver dust. People were passing by and were followed by a shadow that appeared like a cloak made of tiny bubbles. That amazing moment lasted for only 10 minutes, maybe even less. It was time to move on. I felt better but still too hot.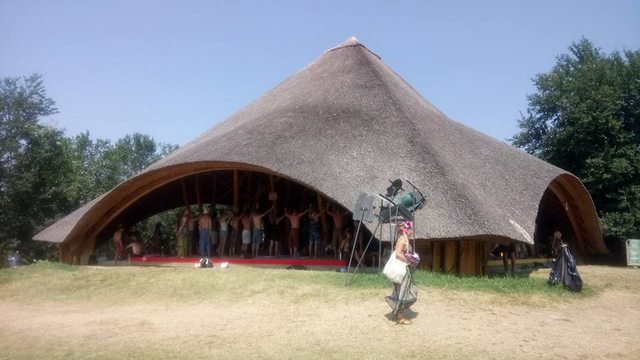 Pyramid
The shortest way to the valley is next to the kitchen workshop and it's only a few hundred meters long but it's narrow, steep and jammed. But there should be some shade. Yeah, right. Huge meadow with useful trees on the side but every inch of shade is covered. On the other side is a way to the campsite and there were much better chances. And I wasn't wrong this time. The small tree provided enough for myself and I laid down in the dust and dry leaves. I was in heaven again. Smoking a spliff and listening beats from the distance I went far away. The trip was intense. I had a questioning of my life. Don't get me wrong. It wasn't a bad trip. It was a good one. Learning trip. Realizing trip. It was a lesson. A lesson that I gave to myself. I mentioned before that this was a mind changer and I wasn't joking about that.
After a couple of hours, the trip ended in waves. I was laying down in the dust, sweaty and dirty, with dry leaves in hair. Rolled another spliff and headed towards showers. I had a feeling like I'm washing off everything bad and stepping into something new. Clean and fresh. I was incredibly hungry and straight after taking a shower I went to grab some food. Kebab meal is something I've had a few times there but that time it was the best meal of my life. I was eating like I was really on some trip and haven't eaten anything for a week and now found some community that gave me food.
During the night
Later that evening I was evaluating the whole experience. That was the first time I actually achieved what I wanted from a trip. Opening some new questions and new angles on old questions. Questioning yourself with an altered mind. And then re-questioning your answers. Not in a way to punish yourself, but to improve yourself. However, that's for another story.
Thank you for stopping by!

Stay Smoked