Weight it out
I always weight out my packs. As you can see my scale (which is new by the way) is covered in kief dust. I selected some Rocket Fuel and weighed out 0.20 grams. I've found 0.15 is effective but the flavor really is a lot more pronounced with 0.20. I will go as high as 0.30 grams, but I have been trying to keep it closer to 0.2 with my lungs still in rough shape.
Grind it up, pack it up
Just like you would do with a bong or a pipe, I grind up my flowers and pack them into the chamber. I try to make sure I got a nice even distribution over the screen before adding in the plunger and putting the bowl on the volcano.
Pre-Heat
The volcano takes a while to pre-heat and is necessary to do. So I usually turn it on before I start weighting everything out. If I get the bowl ready before it's fully heated I may sit it on there to get the buds to begin heating up. The Red button the heat on and off, the Green button turns the fan on and off.
Fan On, Bag on!
I do things a bit different than a lot of volcano users. Most connect the bag before putting the chamber onto the volcano. I put the chamber on, then turn the fan on, and when the vapor starts, I connect the bag. This prevents any air from getting blown into the bag before vapor is being produced. We would not want air contaminating our delicious vapor.
Fill up and cool off
It takes a minute or so to fill the bag up with such a big bag. Many people use smaller bags, and some people will fill the bag up with the same chamber several times. I do one big bag. I find that the taste is not good on bags after the 1st, so I keep it to one and make it a good big one.
Good to go
After 30-60 seconds of cooling, it is good to go! It's not that complicated of a process, but the volcano is large and only really good for at home use. For a lot of people this isn't a practical method of consumption. I personally love it for a more delicate expression of terpenes, and I honestly believe it gets me higher than anything else. I am planning on doing a full review of the volcano to come, but I wanted to show everyone the whole process of using it the best I could.
---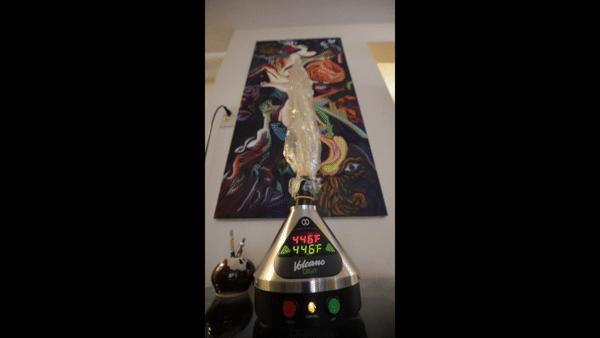 #cannabis #volcano #vapor #process #rocketfuel #coldvapor #scale