Greetings everyone!
In the third week, height became a slight issue. Slight only because everything's being solved with minor adjustment. Now, after I got a longer distance between light and bud sites, I can fit the 600w bulb. Of other improvements, there's a new oscillating monkey fan. The old one stopped to be oscillating, now it's just a fan. Anyways, my tent is now fitted with 600w full red HPS light and two fans that blow over tops in order to cool down the area and prevent mould.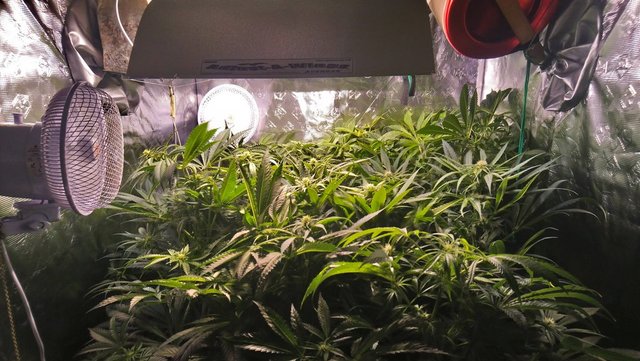 **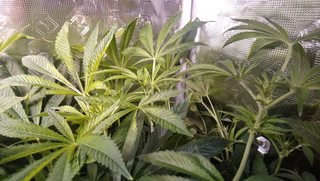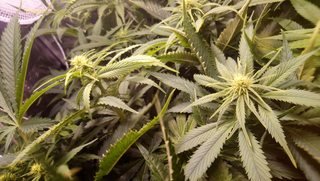 Virgin #nugporn clockwise:
Chocolate Mint OG, Honey B, Lemon Shiny Silver Haze and Wedding Cake
Plants don't require too much attention at this point besides regular watering, bending the highest tops and clearing the bottom part of all leaves and branches that can't get light. They are about 150 cm tall so bending the tops was required to reduce the height and to open up a space for upcoming tops.
Removing lower branches and leaves creates space for better airflow which results in lower humidity. Another benefit is that the plant doesn't waste energy.
From left to right:
Royal Critical, Wedding Cake and Bubba's Gift
Irrigation And Nutrients:
Plants drink ~15 litres of water every three days and that's not going to change until harvest. EC is ~2.0 and pH 5.9 - 6.2.
Nutrients and additives used:
Plant Magic Bio Silicon - stems and leaves strengthener
Canna CalMag Agent - soft water buffer
Mammoth P - nutrient liberator
Plagron Green Sensation - additive, booster
Advanced Nutrients Connoisseur - basic bloom nutrient
General Hydroponics Diamond Nectar - fulvic acid
General Organics Diamond Black - humic acid
Plagron Sugar Royal - additive, enhancer
Thank you for stopping by!

Stay Smoked