Greetings everyone!
The vigorous growth continues in the second week of flowering. Since last week plants got like 8 inches without stretching between internodes. Except for Honey B and Critical but they started a week and two after leading Choc Mint, Lemon Haze and Wedding Cake and were chasing the light.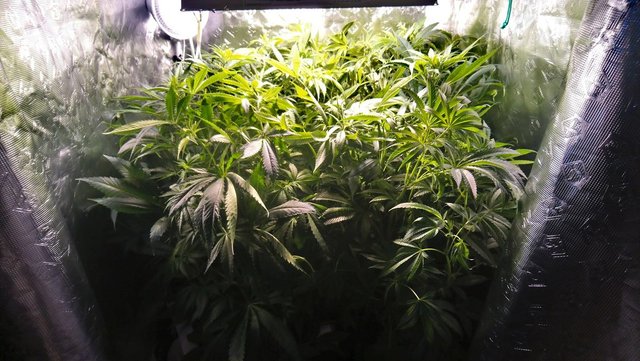 **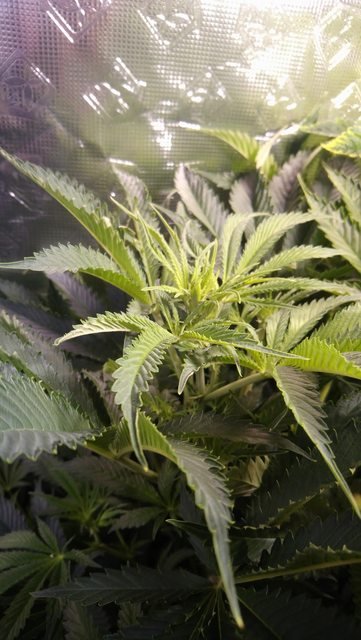 From top left clockwise: Chocolate Mint OG, Honey B after another bending, Lemon Shining Silver Haze and Wedding Cake
Choc Mint remained short and bushy and still doesn't require any form of training. Lemon Haze and Wedding Cake are a bit out of control. Their internodes are only 2 inches short and plants are higher than 130cm which leaves me with the shitload of branches that have to be trained on a daily basis. Honey B is the tallest but her internodes are longer and branches fewer.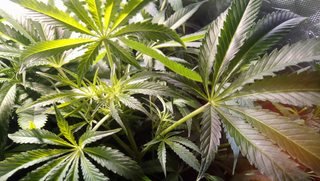 Critical and Bubba's Gift
Last but not the least Critical and Bubba's Gift. Critical is in 2-gallon smart pot and it's catching up with others in height but not in size. Considering smaller pot and two weeks shorter veg time she's doing well. Bubbas' gift is still the shortest, the smallest, tiny plant.
Irrigation And Nutrients:
Plants are watered every third day with pH 6.0-6.3 and EC ~1.8 water. Bubba's Gift less often cos it's in regular pot and soil dries up at a slower rate.
Nutrients and additives used:
Mills Vitalize - plant vigour promoter
Canna CalMag Agent - soft water buffer
Mammoth P - nutrient liberator
Plagron Pure Zym - additive, enhancer
Plagron Power Roots - additive, stimulator
General Hydroponics Diamond Nectar - fulvic acid
General Organics Diamond Black - humic acid
Advanced Nutrients Connoisseur – basic bloom nutrient
Plagron Sugar Royal - additive, enhancer
Thank you for stopping by!

Stay Smoked