Greetings everyone!
It's been a while since my last #update. Last few vegging weeks brought vigorous growth and significantly stronger stems. Plants didn't stretch too much, just a bit of LST was needed.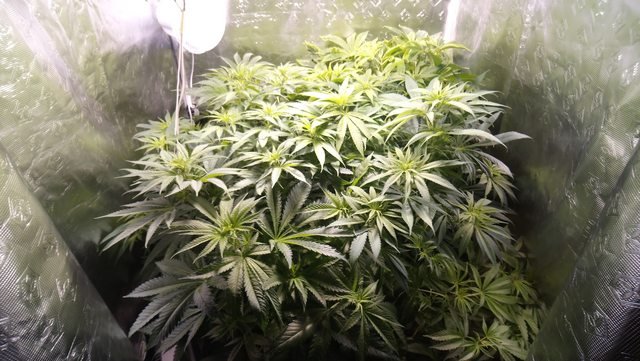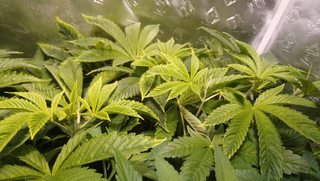 Middle: Chocolate Mint OG, bottom: Honey B
Honey B was lacking some nutrients and felt a bit sick, but yellow leaves are turning back to green and the overall plant looks very good. Top cola was LSTed to reduce the height. Choc Mint remained shorter and bushier and no intervention was needed.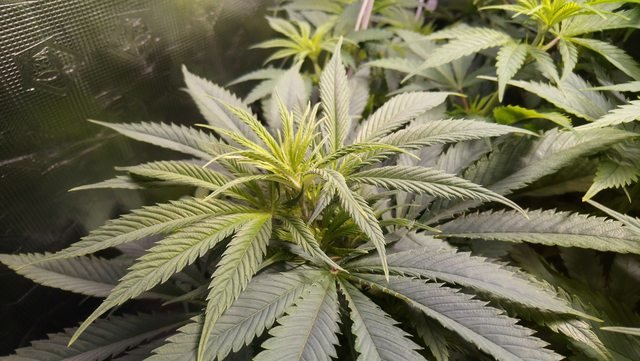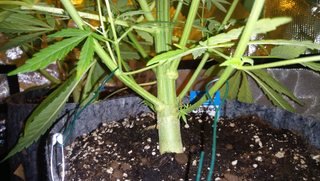 Middle: Lemon Haze, bottom: Wedding Cake
Lemon Haze and Wedding Cake are the biggest and throwing everything else in shadow. They were LST'd at the earlier stage and later again to keep canopy even.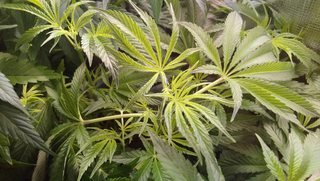 Critical and Bubba's Gift
Bastard children, Critical and Bubba's Gift, live on borderline and collecting last rays of light. Bubba's Gifts' branches are trimmed so only top bud sites will yield.
So last week the transition to #flowering started. I wanted to do it as natural as possible so, over a week, nights were becoming longer by 45 minutes every night until 18/6 has changed to 12/12 schedule. Not sure did it make any benefits but didn't hurt them definitely.
Irrigation And Nutrients:
At this point, plants drink ~15 liters of water 2 - 3 times per week.
pH: 6.0 - 6.3
Nutrients and additives used:
Mills Vitalize - plant vigour promoter
Canna CalMag Agent - soft water buffer
Mammoth P - nutrient liberator
Plagron Pure Zym - additive, enhancer
Plagron Power Roots - additive, stimulator
Advanced Nutrients Connoisseur – basic bloom nutrient
General Hydroponics Diamond Nectar - fulvic acid
General Organics Diamond Black - humic acid
Plagron Sugar Royal - additive, enhancer
Thank you for stopping by!

Stay Smoked