Greetings everyone!
Exactly two weeks passed since germination. Five out of six are transplanted two days ago, Gorilla Breath decided to quit. Came out a day later and was moved in bigger cubes together with others, but growth stopped a couple of days later.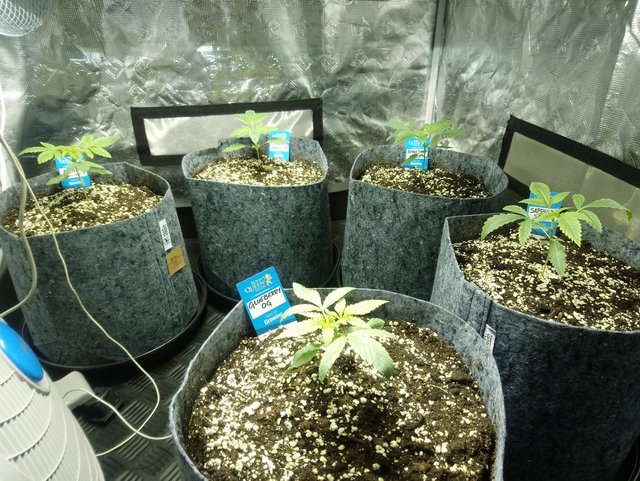 Others look well. They're under 250w MH bulb at the room temperature and a little bit of wind. Setup is the same as the last one. No need for upgrades. Up to 600w light, 1x1m2, 94w extraction fan with a carbon filter, 1 box fan, 2 monkey fans. Plants are in 5-gallon smart pots in soil. Nutrients are the same as before minus Mammoth P which I ran out of and didn't get any new free stuff so this is the opportunity to see how does it go without it.
Yellow at the edges should be gone till tomorrow. Soil is providing the nutrients for the first week or two. On the left: Sapphire Scout and Amnesia Haze, on the right: Atomika and Strawberry Amnesia.
Glueberry OG
------------------
GG4 x OG Kush x Blueberry
Indica/Sativa hybrid
THC: >22%
Flowering Time: 8 weeks
Yield: XL
Irrigation And Nutrients:
Irrigated at transplanting with pH water, CalMag and Byosis. Next time they'll get a quarter of the recommended dose of additives and enzymes.
Thank you for stopping by!

Stay Smoked